I Say Thank You - update

So what a great time we had Saturday at the Welcome Home Ceremony for the 802nd Ordnance Company returning from Afghanistan. I was honored to sing the song that I wrote for the troops, "I Say Thank You". While I was singing, many of them were wiping their eyes and weeping. I was surprised.

Then, at the end, they announced that they were giving a commemorative coin, called a challenge coin, to all the troops. They had a few coins for the honored guests, and one was for me.

As I received mine from the commanding officer, Capt. Todd Bostick, he told me my song was very touching and moving, and thanked me for writing it for them. I was moved. The troops were yelling and shouting as I walked across the platform, and Angela said she heard many shouting my name. I was very surprised and blessed.

We went to bless and honor the troops and man did they bless us! Please continue to pray for all our troops.

Here are a couple of articles covering the event from local news agencies:
Access North GA and Gainesville Times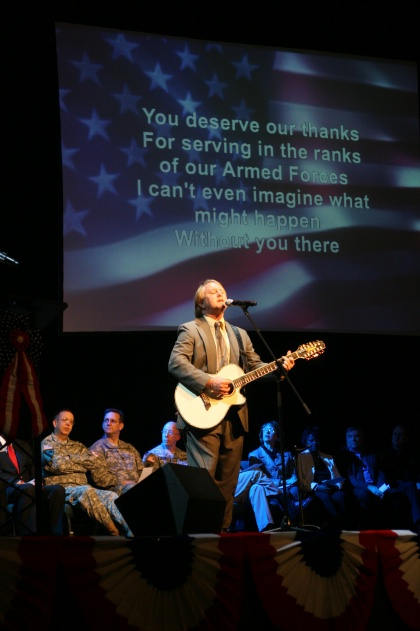 Joey with GA Governor Nathan Deal
We're going to keep the FREE download on the home page of our website for a short while. If you know of anyone who would like it, please send them to our website and please let us know if it is a blessing.
Thanks for your continued prayers and support!

Joey and Angela Nicholson
* We want to give a special Thank You to Ron Kellner of 'Patriot's Call' for this opportunity and for all that this group has done for the troops and their families.